AMERICA THERE IS ONLY ONE SOLUTION.....
REVOTE!!!!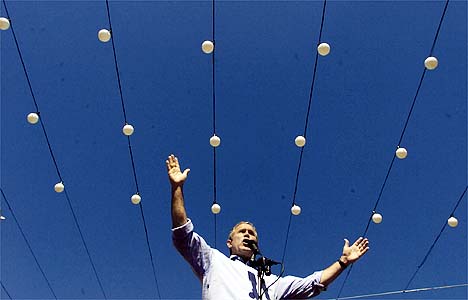 Above, amiable dunce George "D-Dubya-I" Bush says it's time for CONSIBLIAMATION!!
Bush and his cabal of ward-heelers and long-time Republican aparatchiks (your Dick Cheney's, your James "completely out of his mind' Baker the 3rd's etc. etc.) would like Al Gore (who coincidentally was voted for by roughly 200,000 more Americans than Bush) to concede for the good of the country. This of course, is BALONEY!!!
Allowing ALL votes to be counted in this election, and declaring NO winner until this is done is what's good for the country!
Call your congressman and senators NOW, and demand that the Palm Beach County, Florida vote be REDONE,
NOW!!!!
This page assembled by Americans for the Prevention of Abject Stupidity in the Oval Office c.2000