Way Out Wardell

the story of the great forgotten tenor of the west!

Wardell Gray

The Thin Man (the one with the sax-a-ma-phone, not the one with Myrna Loy).

Way Out Wardell, as he was dubbed on an el cheapo boot of one of his El Lay concert hall stomps. He was a stone solid tenor duellist that history has hung on the fringe, but who was like a comet tearing through the center of late 40's bop.

He was an unusual man. His literary tastes ran to Shakespeare and Sartre. By all accounts he was highly intelligent and politically aware. And ironically enough, early on he was something of an anti-drug advocate. He was tall, but unlike his pal Dexter Gordon, he didn't cut too substantial a figure. According to Hampton Hawes:

"He ate like a horse and was skinny as a rail. First time I saw him in his drawers, ribs showing like a starving alley cat, I thought if I blew hard on him he'd fall over. Scared me."

In his day he grooved (most legendarily) beside Long Tall Dexter Gordon, The Count of Basie, Benny Goodman's Be Bop band, Tadd Dameron and Fats Navarro and the mighty Charles 'Yardbird' Parker. Yet for all of his brilliant recordings with the cream of the crop, he is today but a footnote, all but lost to everyone except the historically dusty and the deeply hip.

This can in large part be laid on his untimely demise, neck broken, dumped amongst the cacti and snakes on the outskirts of Lost Vegas, not fully thirty-five years on this sphere in Nineteen and Fifty Five. If smack and other elements of the hard life hadn't brought him down, he'd be barely eighty, probably still blowing his sweet music. But this was not to be.

He entered the world in Oklahoma City in 1921, and a few short years later moved with his family to Detroit, where as a teenager he was a part of the famous Cass Tech High School musical program (who's alumni are a veritable who's-who of Motor City jazz).

He began his playing career on alto, and his first band featured a young Howard McGhee on trumpet and 'Big Nick' Nicholas on Tenor. When he left he was replaced by none other than Sonny Stitt (another young cat that would head West).

In 1943 he got a gig with Earl Hines , who's band was an incubator of the early Bop movement, featuring Bird, Dizzy, Billy Eckstine (who would later have a groundbreaking Bop orchestra of his own, also featuring Gray and Bird) and Sarah Vaughan. Sadly JC Petrillo's Musicians Union recording ban prevented the Hines and Eckstine bands (and everyone else) from recording during most of Gray's time as a member. However, it was his stint with Hines (during which he would switch, permanently, to tenor) that brought him to LA, where he would explode.

In late 1946, Gray would make his first recordings as a leader, and they were classics (though oddly enough, never released in the USA at the time). With a group of West coasters (native and like Gray himself, transplanted) featuring pianist Dodo Marmarosa (another lost Bop legend), bassist Red Callender and drummers 'Doc' West and Chuck Thompson, Gray flies out of the gate with style fully formed after three hard years on the road. He had a sound, that while tonally akin to the brilliant Lester Young, was full of the fire of Bop. In fact Gray may have been the greatest of those influenced by Pres, in that he built a truly unique sound on the Master's foundation outside of the 'cool school'. He was a prodigious improviser, who could translate a torrent of ideas through the bell of his horn, with the assurance of a Clifford Brown or Bud Powell.

Wardell Gray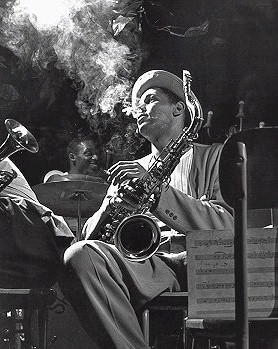 Long Tall Dexter Gordon