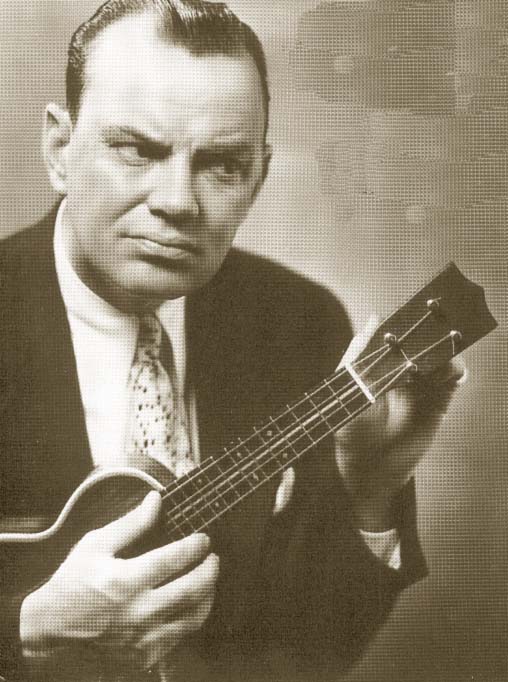 "Say What?"
The Strange Saga of Cliff Edwards, AKA
'Ukelele Ike'
Ukelele Ike
Some name, huh? Sounds like a the town drunk from when your Grandpa was a kid.
But let me tell you brothers and sisters…there was a time when the name Ukelele Ike could strike fear into the hearts of men (well, not really, unless you were somehow unnaturally ukelelephobic).
The straight dope is, Ukelele Ike, who was known to his mama as Cliff Edwards, was three quarters of a century ago (and later) not only a veritable hit record machine, but a popular stage and screen actor as well. In fact, by the end of this article, you will walk away, flush with the knowledge that you had been aware of this man's talents just about your entire lives, and never really knew it.
Born June 14, 1895 in Hannibal, MO (or Montreal, Quebec, depending on who you trust), Cliff Edwards began slapping the ukelele around as a boy, eventually uke-ing himself onto the vaudeville stage, making a name for himself (with his partner Bob Carleton) by the time he was in his early 20's. It was during this period that he picked up the nickname Ukelele Ike, and was unable to shake it until his death in 1971 (though, to be perfectly honest it would seem that although he shook loose this mortal coil, he has yet to truly shake loose the nickname).
Anyway…Edwards also managed to introduce a couple of major standards in his early years, only to see them turned into huge hits by other people.("Ja Da" by Arthur Fields and "Toot Toot Tootsie Goodbye" by Al Jolson). He became a fairly big star in vaudeville, eventually finding himself starring on the Broadway stage in George & Ira Gershwin's 'Lady Be Good' in 1924, in which he was featured on 'Fascinatin' Rhythm', with which he had his first hit record. He hit #1 for the first time in 1928 with 'I Can't Give You Anything But Love"