<<<<BACKUkelele Ike Continued....

He made his movie debut in 1929 in 'Hollywood Revue of 1929', performing 'Singing In The Rain" and he had ANOTHER #1 hit! He managed to score again in the 30's with the big recording of 'It's Only A Paper Moon'. He spent all of the30's and most of the 40's playing fourth and fifth banana parts in some A, but mostly B and C list movies, singing and playing in many of them, especially a continuing stint as a singing cowpoke in at least two different series of films.

But dig this brother….the clincher, the role that made the voice of Ukelele Ike world famous, but left the man himself little more than a footnote….Cliff "Ukelele Ike" Edwards provided the talking and singing voice for none other than Jiminy Cricket in Walt Disney's 1940 'Pinocchio'! That's right, the wistful recording of 'When You Wish Upon A Star' you remember from your childhood, that the evil Walt Disney empire

has since used to drill their products into your brain, was sung in the mellow tones of none other than Cliff Edwards. Ironically (and you'll forgive me for believing there was anything sinister in this) Edwards was not credited for his contribution to the film. He also did voices for 'Dumbo" (the unfortunately named character 'Jim Crow' ?!?!?) and reprised his role as Jiminy Cricket in the 1947 short 'Fun and Fancy Free'.
For the duration of the 40's and 50's, Ukelele Ike worked pretty steadily in film, radio and television. Unfortunately he was dogged by demon rum and chronic financial insolvency, and died in a Los Angeles nursing home in 1971.
But I didn't bring you here to bend your ear with a bunch of Joe Franklin-esque nostalgia-babble ("Yes my friends…In my many conversations with the GREAT Eddie Cantor…Banjo Eyes…yadda yadda yadda"). I come to hep you to the fact that for all of his great acheivements on stage and screen, Ukelele Ike made some snappy little discs as one of the earliest scatters on records. The combination of his mellow voice, his rhythmic ukelele strumming, and his wild scatting (he called it "eefin'") could be heard as early as 1924.
Now, exactly where 'scat' starts is a matter of some dispute. The New Grove Dictionary of Jazz jumps right from Louis Armstrong's "Heebie Jeebies" in 1926 to Cab Calloway in the 30's and right on into the post-bop era. The whole story is something else entirely. While the New Grove places the beginnings of scat in very early, pre-recorded jazz, Cliff Edwards - the appellation "eefin" not withstanding - was scatting on record years earlier than Pops (check out 1924's 'Fascinatin' Rhythm', a Top 10 hit that year) and very well at that. It's important to mention that the years between Armstrong and Calloway were crowded with talented and innovative 'scatters', from Leo Watson and the Spirits of Rhythm, to the Boswell Sisters to the mighty Mills Brothers, who's vocal imitation of instruments has NEVER been surpassed.
While many of Edward's hits were standard issue crooning (and despite his often frightening mug, he had quite a pleasant voice), many of them were also hot jazz, featuring many of the great instrumentalists of the day, including guitarists Eddie Lang and Dick McDonough, Miff Mole, Red Nichols, Adrian Rollini, as well as Ike's own not insubstantial ukelele strumming. Cuts like 'That's My Weakness Now' and 'Halfway To Heaven' feature classic dance band sounds with Edwards' wicked 'muted trumpet' scatting.
Ukelele Ike also recorded acouple of risque "party records" - sold from behind the counter in plain brown wrappers - among them 'I'm Going To Give It To Mary With Love', 'The Tired Hillbilly' and 'I'm A Bear In A Lady's Boudoir'. Imagine if you will, the 'Filthy Sounds Of Jiminy Cricket'.
In the end, Cliff 'Ukelele Ike' Edwards needs to be remembered as more than a footnote. A man with two substantial careers - as a hit singer/Broadway star and character actor (and after one look at the list on the right, you have to admit he found his niche ) - and the one of the stars of a very interesting,early, and important part of jazz vocal history.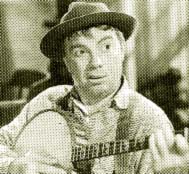 Some of Ike's Film Roles
Harmony Haines
Harmony Bumpas
Harmony Stubbs
Squid Watkins
Screwy Edwards
'Hot Rocks' Harris
Sleepy
Stormy
Happy
Snoopy
Shorty
Handy
Bumpy
Windy
Soapy
Minstrel Joe
Snipe, a Tramp
Bilge
Poggy
Owly
Jiminy Cricket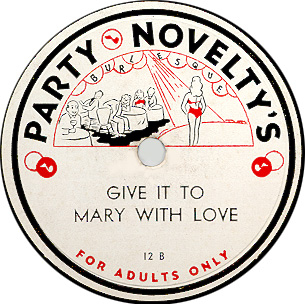 One of Ike's dirty records!
Look up Cliff 'Ukelele Ike' Edwards at AllMusic.com or the Internet Movie Database